Quality Logs to Build Log Homes – Delivered to You
We are the leading wholesale provider of logs for building log homes and log cabins.
We sell high quality milled heartwood logs for log homes, timbers, finished boards, log siding and log cabin home accessories for log home construction. We do not sacrifice quality for price. We simply eliminate the inflated retail log home company markups on log home kits or log home packages.
No Gimmicks, Super Sales, or Phony Discounts Off Inflated Pricing
At Wholesale Log Homes, we sell wholesale 'Direct To You'. This enables you to save money when you buy direct from us. Find premium quality materials and services for your log home and log cabin of any size and design. We have been proudly servicing the log home industry since 1972. Please call or email for pricing.  When it's all said and done, buying your logs WHOLESALE from us and purchasing your windows, doors, plywood, etc. locally will save you thousands of dollars and allow you to choose the materials you prefer.
Save Thousands of Dollars When You Work With Us
Get More and Pay Less… Call To Learn How
We provide all popular log profiles and log corner styles including:
Dovetail Corners
Saddle Notch Corners
Mortise & Tenon Corners
Let us offer you premium logs and experience to help you build what you want for less with attention to detail, value and savings.
CALL TODAY FOR A FREE QUOTE – 919 732 9286
We provide premium logs for log homes and log cabin construction.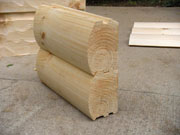 We strongly advise against buying everything for your log home in a pre-organized package. Shop around, the way you do for everything else you buy for yourself. All-inclusive log home plans, log cabin kits or log cabin home packages may seem convenient, but in the long run they are overpriced and inflexible. At Wholesale Log Homes, you'll get the log cabin home you want, the quality you want, and the best log cabin kit prices in the industry.
If you are like most people, you already know what it is you want to build. You may find that log cabin floor plans of log home kit sellers don't fit either your needs or your budget. When you buy from us, you design your log home, and we supply the wholesale logs, timbers, and other specialty items that can't be purchased locally. All non-specialty building supplies, such as doors and windows, can be purchased from a local building products dealer. By buying logs from us and by purchasing other products locally, you save thousands of dollars in delivery and markup costs. Best of all you will have exactly the quality and brands that you want in your log cabins. Not only will your new home meet your budget, but it will meet your specifications as well.
Ron Wolfe, president of Wholesale Log Homes, is a log home professional. Since 1972, he has helped countless log home builders and homeowners create beautiful, top-quality log homes at prices that log cabin kit sellers simply cannot match. He is a licensed building contractor in North Carolina.
Wholesale Log Homes has earned a reputation throughout the industry for supplying superior logs and wood products to customers across the country. You'll find the logs and supplies you need to build the log house of your dreams–easily and affordably!
Call today for a free estimate from your plans – 919 732 9286
These photos are examples of what our log home products can create. Good planning can save you many thousands of dollars instead of buying a retail kit. More

Complete consulting assistance from beginning to end when you work with us. 40 years of log home building experience to guide you: FREE.