Build your log homes using wholesale logs
There is an industry magazine you may have heard of called "Log Home Living". In it they promote what is called the "Log Home Lifestyle". Log homes are the only type of home to which people attribute a "lifestyle".  The reasons are many, and obvious to most of us.
Log homes are typically constructed in rural, private settings signifying a peaceful and tranquil place. They are known for having such amenities as functioning fireplaces or woodstoves, exposed beams, lots of visible wood and other rustic features. Log homes by their very nature are "green" and eco-friendly being constructed from 100% sustainable timbers.
The Log Home Lifestyle
The "log home lifestyle" implies a slower pace, a simpler life that is closer to nature and shares history with pioneers and Presidents. Merely thinking about being in a log home with a roaring fireplace, reading a great book with your dog by your side will lower the blood pressure and bring a smile to your face. It is more than just a lifestyle, it is a feeling that many of us strive to attain in our lives.
Achieving the log home lifestyle is a process not unlike any other major change we choose for ourselves. It involves a great deal of planning, research and groundwork before our dream can come to fruition.  From browsing hundreds of floor plans to interviewing builders and learning about new construction methods, the path from your dream to dry-in is significant because you will need to make hundreds of decisions along the way.
Most of these decisions will involve choices that have little impact on the end result. Which floor coverings, bathroom fixtures, kitchen counter tops or lighting solutions we choose are mostly issues that reflect our decorating approach. However, a few of these decisions are extremely important and can have significant financial consequences.   Choosing where you buy your logs will be one of the biggest decisions you must make and making the right choice can save you thousands of dollars.
Buy your logs wholesale and save a fortune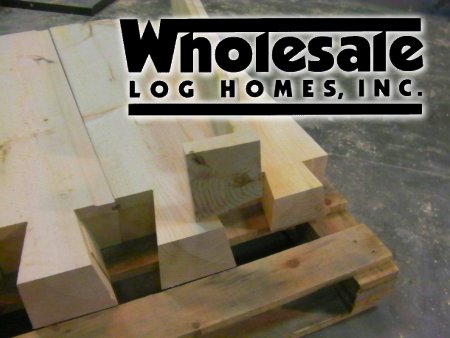 Choose Wholesale Log Homes to be your primary source for all your log home construction needs. Our company sells customized wholesale log home building products delivered right to your door.  Find wholesale milled heartwood logs, timbers, finished boards, log siding and log accessories for your log home construction project.
By buying wholesale logs from us and purchasing other products locally, you will save thousands of dollars in delivery and markup costs. Best of all you will have exactly the quality and brands that you want in your log home. Not only will your new log home meet your budget, it will meet your specifications as well. Wholesale Log Homes has earned a reputation throughout the industry for supplying superior logs and wood products to customers across the country. At Wholesale Log Homes you'll find the logs and supplies you need to build the log home of your dreams—easily and affordably!