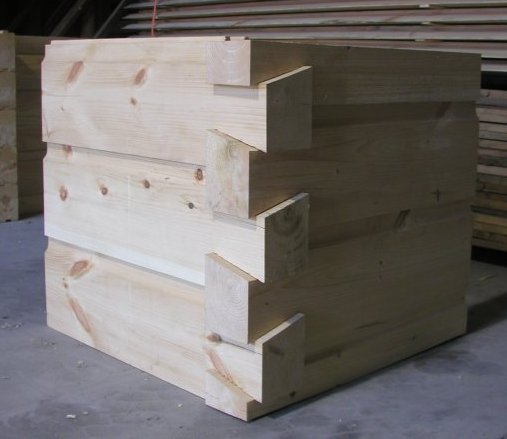 For over 30 years, Wholesale Log Homes has been helping countless numbers of builders and individuals create beautiful, quality log cabins at prices that log cabin kit sellers refuse to match. We have earned a reputation throughout the industry for supplying superior logs and wood products to customers across the USA and Canada. At Wholesale Log Homes you'll find the logs and supplies you need to build the log cabin home of your dreams—easily and affordably—without the inflexibility you have with a log cabin kit!
We sell logs wholesale!
At Wholesale Log Homes we do not sell log cabin floor plans or log cabin kits. We sell wholesale logs for log cabin building construction. We will estimate the cost based upon the amount of log and timber materials your plan requires, free of charge. You, as the consumer can then check our prices and compare against our competitors! We never sacrifice quality for price. We simply eliminate the inflated log cabin kit seller company markups that are added to prefabricated log cabin kits.
Our logs offer more than pre-fab log cabin kits
At Wholesale Log Homes, we sell logs by the linear foot to make any custom log cabin kit or package substantially less expensive because we quote wholesale prices. Not only does this guarantee tight-fitting joints and precise cuts, but it also allows maximum control of log placement and appearance. In addition, the linear foot method of construction allows you to make design changes during construction, giving you far more flexibility than prefabricated log cabin kits permit.
We offer timbers, log siding, finished boards, and accessories to help you construct your custom log cabin while maximizing savings. With Wholesale Log Homes as your supplier, you can do everything a log cabin kit seller does for much less money. Another piece of advice we gladly offer is that we strongly suggest that you buy windows, doors, roofing, etc., locally. This way, you will save in shipping and log cabin kit seller costs, be able to choose high quality products in person, and have your materials delivered to your build site, as you need them, saving valuable storage space and a whole lot of money!
Got a question about log cabin kits? Send us an email or call Ron Wolfe at (919) 732-9286.