For the finest quality log home, start with superior quality logs.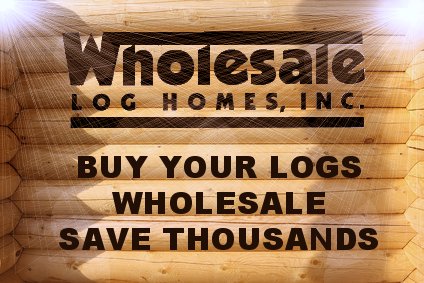 At Wholesale Log Homes, we produce only the finest grade heartwood Eastern White Pine logs for log homes and other related wood products. Our logs are delivered in 8′, 10′, 12′, 14′, and 16′ lengths, with your choice of log profile (shape), thickness, and double or single tongue and groove. Each log is finished to a clean, exact size, per your specifications.
You supply the floor plan
We supply the logs customized to your plan with the log corner profile you specify. The key component of a log home are the LOGS. Buying your logs from Wholesale Log Homes is smart business with great savings. Think "outside the kit" for a more affordable log home.
We also offer dovetail corner notching, saddle notch corners and mortice & tenon corners for many of our log profiles. Call or email for pricing.  These corner cuts are very precise and add an exciting look to any log home.
Mill-Direct Pricing on Logs for Log Homes
Wholesale Log Homes sells the highest quality logs, timbers and log siding at mill-direct prices to people like you, builders, contractors and log home companies across the United States and Canada, and we've been doing this for over 30 years.
Kiln-Dried Logs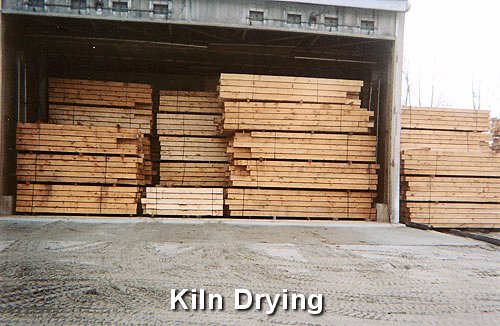 We offer kiln-dried logs and air/surface-dried logs. Kiln dried logs are dried in our own state-of-the-art kilns to approximately 18% moisture content, the recommended moisture content for log home construction.
Our logs are cut from the durable heartwood of the log which makes our logs  dimensionally stable. The sapwood (soft wood between the heartwood and the bark) is discarded in the squaring process to assure that settlement of your logs will be minimal.
We sell our logs by the linear foot. All necessary cutting to length is done on the building site. Not only does this method guarantee tight-fitting joints and precise cuts, but it also allows maximum control of log placement and appearance. In addition, the linear foot method of construction allows you to make design changes during construction, giving you far more flexibility than pre-cut packages do. We also offer timbers, log sidings, finished T&G boards, and accessories to help construct your home.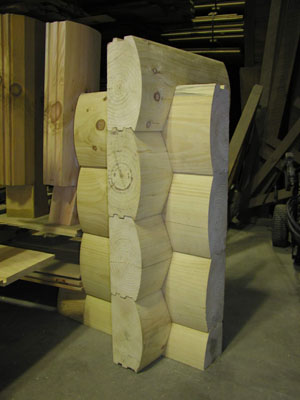 Keep it Simple – Save a Fortune!
Most importantly, remember to keep it simple—better logs cost less when you buy wholesale!
Unfortunately, many people are under the assumption that to build the log home of their dreams they must entrust everything to one supplier (i.e. large kit companies) that sell the idea of "packages" that include everything.
Why would you buy windows, doors and roofing materials and have them shipped from great distances when you can buy the same products locally, pay no shipping and have local support in the event of any problems?
– Find an experienced log home builder
– Buy your windows, doors, etc.
– Buy your logs wholesale
– Save a fortune on your log home!