How to Control Your Home With a Smartphone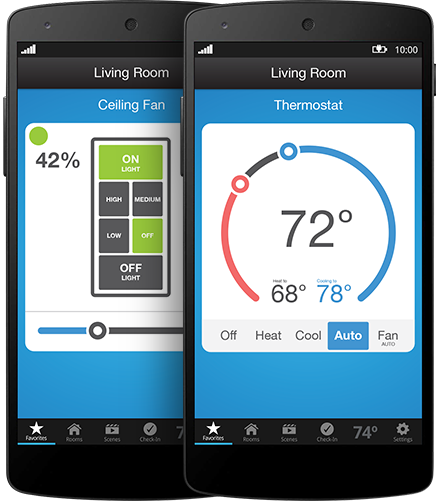 Home automation isn't just a buzzword anymore. It is here to stay. Today it is easier than ever to control your home from a tablet or smartphone. The technology is still evolving, which means that initial setup might require some knowledge of electrical systems and computer networking. Once in place, however, it can change the way you interact with your lighting, appliances, security, and HVAC, making your home more efficient and convenient.
The systems available on the market today vary widely. Many are aimed at full-home installations and can run several thousands of dollars. On the other end, other systems are more flexible and target the hands-on DIYer. Regardless of the exact system, there are a myriad of ways that a home automation system can benefit you, and most of them offer smartphone apps from which to control your home.
Methods
There are a variety of techniques involved in putting together an automated system:
Schedule – Set your air conditioning to kick on twenty minutes before you normally get home, turn your lights on at night when you are on vacation, or turn your sprinklers on at night.
Sensors – Get indoor temperature alerts, be notified when windows and doors open, or know immediately if a smoke alarm goes off.
Rules – Used in combination with sensors, rules are a powerful way to automate events. If there is a leak, turn off the water automatically. If interior motion detector lighting is activated after 11:00PM, dim the lights 50%.
Manual – Change any settings you want in real-time.
Lighting
One of the more obvious uses for home automation, lighting systems have been around for some time. Example uses include turning lights on or off with motion detection and setting lighting to a specified schedule.
Thermostat
Heating and cooling costs can be significant. Automating your thermostat can save big bucks over the long term. Programmable thermostats were the first step in this direction. Now we can go even further by changing settings directly from a smartphone while not even in the building. Forgot to turn down the AC after you left for work on a July day? Just open your app and make the change from wherever you are.
Appliances
With connected appliances, you can monitor electricity usage and get alerts when appliances turn on or off. Forgot to start the dryer on your way out the door? Now you can start it from afar. Have a nagging feeling that you left a stove burner on? Check it immediately and turn it off if need be.
Fountains, Sprinklers, and Yard Fixtures
Add sunrise and sunset timers to your outdoor art and landscape lighting. Turn off your fountains and give your lawn a good soak if water has been scarce.
Pool Pumps, Water Heaters and Other High-Voltage Appliances
Save energy with some of your home's biggest energy users by scheduling and controlling larger 220V appliances.
Security
In addition to the efficiency and convenience offered by the uses above, a smartphone-based automation system can have security benefits as well. If you have the right sensors installed, you can:
Door and window alerts – Know when doors and windows are opened and closed.
Water leaks – Catch them fast and prevent water damage.
Smoke and carbon monoxide detection – Receive an alert the moment smoke or carbon monoxide is detected in your home.
Security cameras – Drop in and check out what is happening in your home at any time from your smartphone or tablet.
All of these aspects of the blooming home automation industry come together to make your home or office more comfortable, convenient, efficient, and can save you money if used smartly.